Goran M. Subotic
Artistic Director
A native of Belgrade, Serbia, Mr. Subotic earned a Ph.D. in Economy – Business Management. He also holds a bachelors degree in Economics of Tourism.
In 1982, he became the General Manager of the Economic Office in Belgrade for Sarrio Slovenia former Papirnica Kolicevo, one of the leading paper mills in Europe. He served in this position until the breakup of former Yugoslavia in 1990.
In 1988 Mr. Subotic founded, and served as CEO, of GTM – a worldwide export import company with offices in 6 European, Asian and North American countries, one of the first private international corporations in former Yugoslavia. Three years later, due to unrest, and war leading to the breakup of Yugoslavia, he moved to Phoenix, Arizona, with his American wife Desiree. In October of 1992 they settled in Mystic CT, and in April of 1997 with Desiree he founded Mystic Ballet.
He embraced the arts from a young age, studied painting and sculpting, but under heavy influence of his parents, he pursued business and economy as a career.
However, life's path brought him to the US where, for the last twenty years he has devoted most of his time to the development of Mystic Ballet as well as performing arts in New England.
In 1999 Mr. Subotic invited former Kirov prima ballerina Alla Osipenko,  to join Mystic Ballet Academy. Madame Osipenko stayed with Mystic Ballet for 2 years.
In 2001, Mr. Subotic invited HRH Princess Elizabeth of Yugoslavia to be an honorary guest at the Mystic Ballet Gala. Following the performance, HRH Princess Elizabeth of Yugoslavia, accepted a position as Honorary Board Member of Mystic Ballet.
In  2003 he choreographed on Misty Copeland an original work, titled "Wind in Your Hair", presented at Foxwoods Resort Casino.
From 2003 – 2013, his other works include Swan Lake, Snow White, Firebird, Cinderella, The Little Mermaid, Sleeping Beauty, Peter Pan, and Crazy for Who?
In 2013 Mr. Subotic choreographed, produced and staged his original production of Nutcracker Spectacular, performed at MGM Grand Theater and Fox Theater – FOXWOODS.
In 2015 following the opening of MYSTIC DARK ROOM, he choreographed and produced a unique line of conceptual works: NOTTOBe, GRAB, Flash!, as well as The Little Mermaid.
His works have been presented across the New England, New York, Europe, Asia, and Central America, receiving outstanding critics:
"Instant Classic", Sharma Howard, The New London Day;
"Top Notch Ballet", New York Times.
Von Elrich Muller, dance critic for NortseeZietung, Germany
"Dancers from the Mystic Ballet in Connecticut transformed Goran Subotic's highly aesthetic contribution into movement."
During his career Mr. Subotic has worked with and created works on leading artists from around the world, including dancers from Hartford Ballet, Boston Ballet, Les Grands Ballets Canadiens de Montreal, and Misty Copland from American Ballet Theater.
In the last 5 years he developed the unique TIC technique, which has made practical and effective use at Mystic Ballet for its idiosyncratic style.
The TIC technique has been taught at workshops in New York, London, Paris, Milano, Frankfurt, Taipei, Osaka, and Tokyo.
Mr. Subotic's artistic presence, creativity and devotion for the arts has been recognized in the US and abroad.
"On stage its dancers are like gods who have the power of movement, precision in steps and rhythm, perfection in silhouettes." – Yaosca Reyes for Hoy, Managua, Nicaragua
"The uniqueness of Mystic Ballet is reflected in its artistic approach and the incredible talent of its young artists that allow the works to be intimately understandable to the audience. Every movement stems from a strong sense of passion entwined with human impulses and instincts."  – A. Nicolic for Tanjug/Mondo, Serbia
ACCOLADES:
Mr. Subotic was Recognized by the State of Connecticut : Introduced by Senator Andrew Maynard and Representative Diana Urban.
"In recognition of the ongoing contribution to the cultural and artistic life of the region. The extraordinary talent and creative genius of Goran Subotic and the Mystic Ballet have brought a new dimension of beauty to our community and our state." – Signed: Donald Williams, President Pro Tempore, Christopher Donovan, Speaker of the House, and Susan Bysiewicz, Secretary of the State
An Official Citation, Town of Stonington:
"The first selectman congratulates you as being the most progressive ballet company in the region , and looks forward to working with you to launch a renowned performance festival, establish a local performance venue and making Mystic a location of ballet excellence." – Ed Haberek Jr. First Selectman.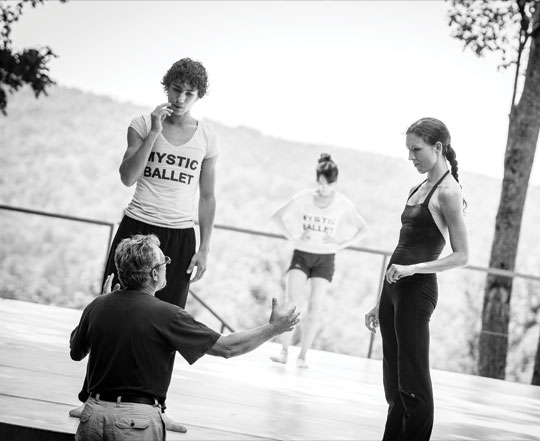 Serving as Executive Director and Artistic Director, he is responsible for Mystic Ballet's artistic growth domestically and internationally, as well as the financial stability of the company.
He served as a director on the founding board of the CT Dance Alliance, as well as served as artistic evaluator for the RI Council of the Arts, and International competition adjudicator for NAMUE in Tokyo, Osaka, Kanazawa.
As an inventor, he holds a number of copyrights including the US patents for Custom Ballet Pointe Shoes.
Photo: Glenn Goettler                                             2012 at Jacob's Pillow Dance Festival